Chili Vibrations Music Festival Lineup
Festival Performers November 17-18, 2017

Sometimes inspiration strikes from the immersion of living in a far away place. The view of the ocean. The sound of a rainforest at sunrise. The smell of an open-air market. The embrace of the wild human experience. However, maybe the nostalgia for a certain place might be attributed instead to a feeling, or a time, or even a person. Sometimes, inspiration stems from a place that everyone can relate to, but maybe no one's actually been. This is the music of The Hip Abduction, the vibrant St. Petersburg, FL-based collective that formed over a mutual appreciation for West African and early Jamaican reggae/dub music.
The Hip Abduction began through informal jam sessions and quickly coalesced into a sound that attracted national attention. For Gold Under the Glow, the band's third full album releasing on March 11, 2016, THA engage an indie pop acumen alongside a highly emotive and roots driven sound. Recorded in Nashville, Gold Under the Glow was produced by Dabney Morris (Wild Cub) who is credited with incorporating synth-pop teeth into the band's global foundation and summery vibe. It's a smart blending of world pop and club aesthetics that appeals to both audiences.
The Hip Abduction featuring David New (lead vocals, guitar), Pat Klemawesch (kamale ngoni, guitar, vocals), Chris Powers (bass), Dave Johnson (baritone and tenor sax), Sean Fote (keyboards), Matt Poynter (drums, vocals), and John Holt III (kamale ngoni, guitar, vocals) have shared stages with the likes of Ziggy Marley, Umphrey's McGee, Thievery Corporation, 311, Dawes, Galactic, and .moe and has performed at Sunfest, Wanee Music Festival, Suwanee Hulaween, Orange Blossom Jamboree, Tropical Heatwave Music Festival, The BIG What? and more. The coming year promises national tour dates with exciting appearances at festivals including Shaky Knees, Slide Into Spring Fest and more. Fans should also be on the lookout for surf footage and travel photos from this Florida coastline collective.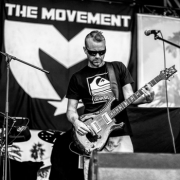 When American reggae band The Movement's sixth album Golden topped the Reggae Albums chart for the week of April 30, it was a testament to their supportive fan base, earned through years of consistent touring, and a triumph for an alternative to the traditional record label structure.
Golden is the debut release on Rootfire Cooperative, a not for profit company offering no interest micro loans to reggae acts, which pay for the production, manufacturing and marketing of their albums as well as administrative services.
"Rootfire Cooperative is dedicated to providing reggae artists with opportunities to make music of the finest quality and reach the largest audience possible," said Seth Herman who founded Rootfire as a management company in 2010 while he was managing three American reggae bands, Giant Panda Guerilla Dub Squad, John Brown's Body and The Green, and the North American manager for New Zealand's Black Seeds. Rootfire Cooperative was created through a partnership between Rootfire and Ineffable Music Group, a full service artist management company based in the San Francisco Bay Area.